Our Charity for 2022
We are pleased to announce our chosen charity for 2022 is Marlow Opportunity Playgroup.

Marlow Opportunity Playgroup operates from the 1st Wooburn Scout Hall in Watery Lane, Wooburn Moor.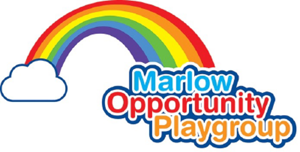 From the charity:
"Marlow Opportunity Playgroup (MOP) was set up as an independent charity in April 2005. Previous to this the playgroup had been in operation as part of the British Red Cross for over 30 years. The playgroup is managed by a voluntary management committee who fulfil roles such as treasurer, fundraising, publicity and health and safety. The children come from a wide area including Maidenhead, High Wycombe and Denham. We are currently the only specialist pre-school in Bucks and East Berkshire.
We employ 17 members of staff who are supported by several volunteers. The majority of the staff are trained to level 3 in childcare and all are experienced in working with a wide variety of additional needs. We use Makaton signing throughout the session and reinforce our communication with picture cards.
The playgroup is primarily for children up to the age of 5 with additional needs, although we do also take siblings and children from families in crisis. We are Ofsted registered and at our last two Ofsted inspections in 2011 and 2015 received an across the board rating of ''Outstanding'. As all pre-schools, we are in receipt of Government Early Education Funding for 2, 3 and 4-year olds. The playgroup is registered to take up to 24 children per session, however we limit ourselves to a maximum of 20 to maintain our high standards of provision.
The children who attend MOP have a very wide range of needs including Down Syndrome to Autism, celebral palsy to global developmental delay. The majority of the children have profound and complex needs and it would be difficult to include them in a mainstream setting. We have several children who are tube fed and/or suctioned and/or require oxygen during the session and many with physical disabilities who require specialised handling. Several children also suffer from seizures. We ensure the children receive the necessary level of support to enable them to access all activities and to make sure their therapy aims are followed during their morning playgroup session.
The children are referred to the playgroup by Health, Education and Social Care as well as by parent word of mouth. These professionals use the playgroup facilities to assess the children and consequently set physiotherapy and speech and language programmes for individual children, which are carried out by our support workers during the sessions. We maintain strong links with the therapists and work closely together to ensure a consistent approach for the children.
The playgroup supports parents during the early days of diagnosis through signposting, advising and providing friendship. We ensure the parents are confident that the playgroup is a safe, secure and happy environment in which their children can be left to learn and develop through play.
We rely heavily on donations, grants and fundraising to raise sufficient money to remain in operation. We have to raise over £90,000 per annum to enable us to continue supporting children to access the curriculum and fulfil therapy aims during their morning sessions.
Marlow Opportunity Playgroup is a calm, welcoming and happy environment where the children feel confident and relaxed and are therefore able to learn through play. We are all very proud of the service we offer to our children and their families."
Marlow Opportunity Playgroup is Registered Charity No. 1177581

More details can be found at http://www.marlowopportunityplaygroup.org.uk